Martian Towns Seen From On High!

From high above the Martian city of Gwalli-Andor, at night. The town is quite dark.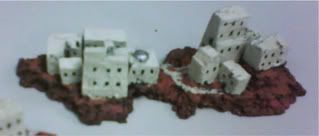 The villa of Kez Ra Tohnassi, the wealthiest merchant prince in Gwalli-Andor.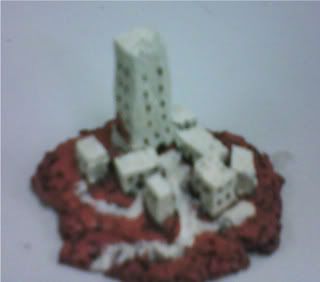 The Tower of Righteous Harmony and Conduct, a cross between city hall, royal palace and a temple.

All of these magnificent vistas were photostattted by our Lead Correspondent, Mr. Eli Arndt. He took the photostats from the highest of altitudes aboard a native kiteship. You can see the acres of shining white kur plants, whose fibers make an astonishingly sturdy fabric, lightwieght and airy. Something like a cross between cotton and silk, it is one of the staples of Martian dress.
We are looking forward to additional aerial photostats from Mr. Arndt as he travels across the Red Planet. As always, his despatches are eagerly awaited by our hungry audience.
[Editor's Notes: Eli has been making some 1/1200 Martian terrain from scratch for Land Ironclads and Aeronef gaming. He showed me these pictures of the work in progress, and, well, I thought they were absolutey brilliant and deserved a wide audience. I made up the names and background material for this post, but I hope he uses the town name at least - I know I will be using it more in the future.]